EasySat

Need some help for pointing your satellite dish successfully ?
EasySat gets your location and provides you the data for receiving the satellite from your sky neighborhood.
Navigate among the visible satellites with the picker or by scrolling onscreen the virtual Clarke's bell and double-tapping a satellite.
You'll get true direction (azimuth), elevation and TNB skew for direction.
GPS, Wifi or cellular network provides automatic location.
No data connection is required, the position database with more than 160 satellites, fresh from July 2016, is integrated.
Missing a satellite ? Drop a mail :-)
The complete satellite listing is below : AMC, Anik, Brasilsat, DirecTV, EchoStar, Galaxy, SatMex, ...
Devices with built-in compass display red or green arrows to turn to the right azimuth.
Otherwise you must use a compass and EasySat will provide Magnetic Azimuth so you don't need to care about magnetic declination for your location.
Snapshots iPhone: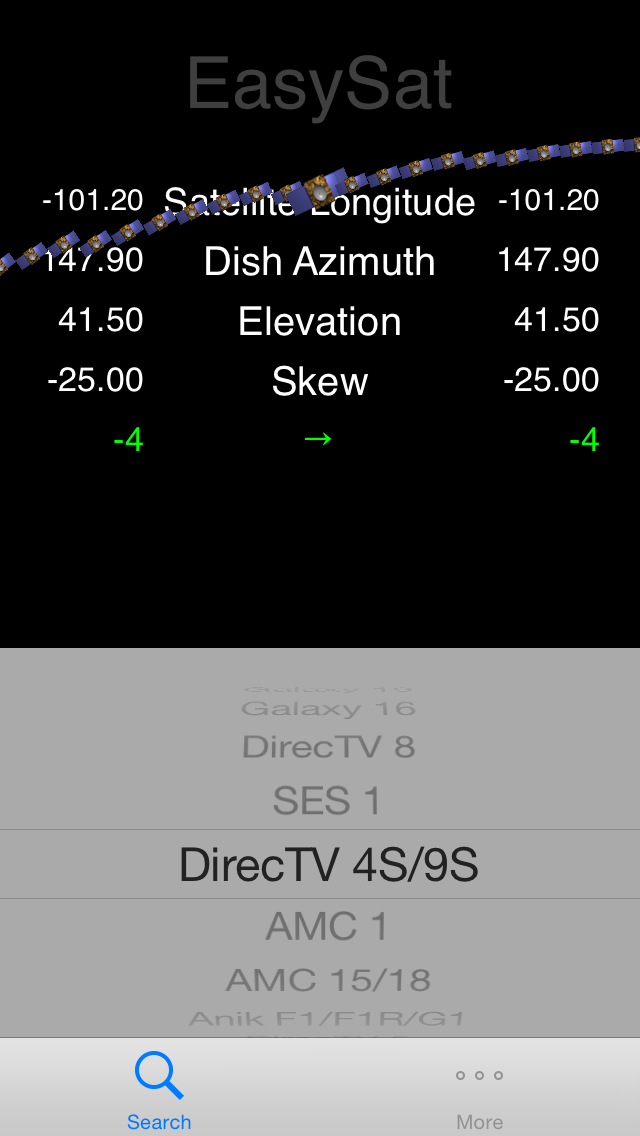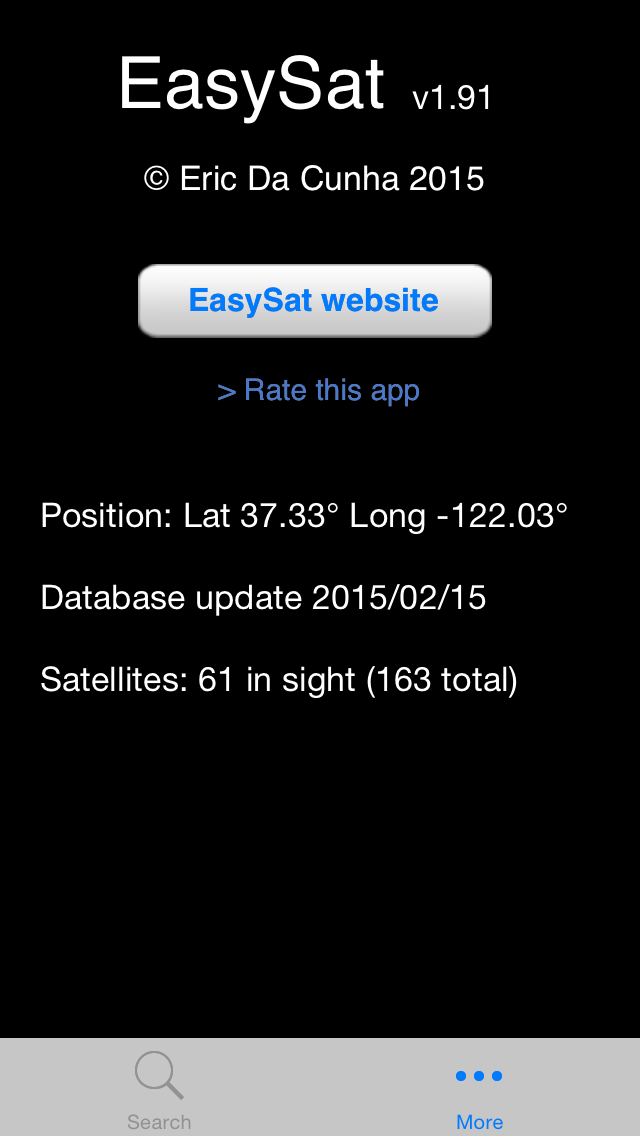 Snapshots iPad: (25% zoom, clic for full screen)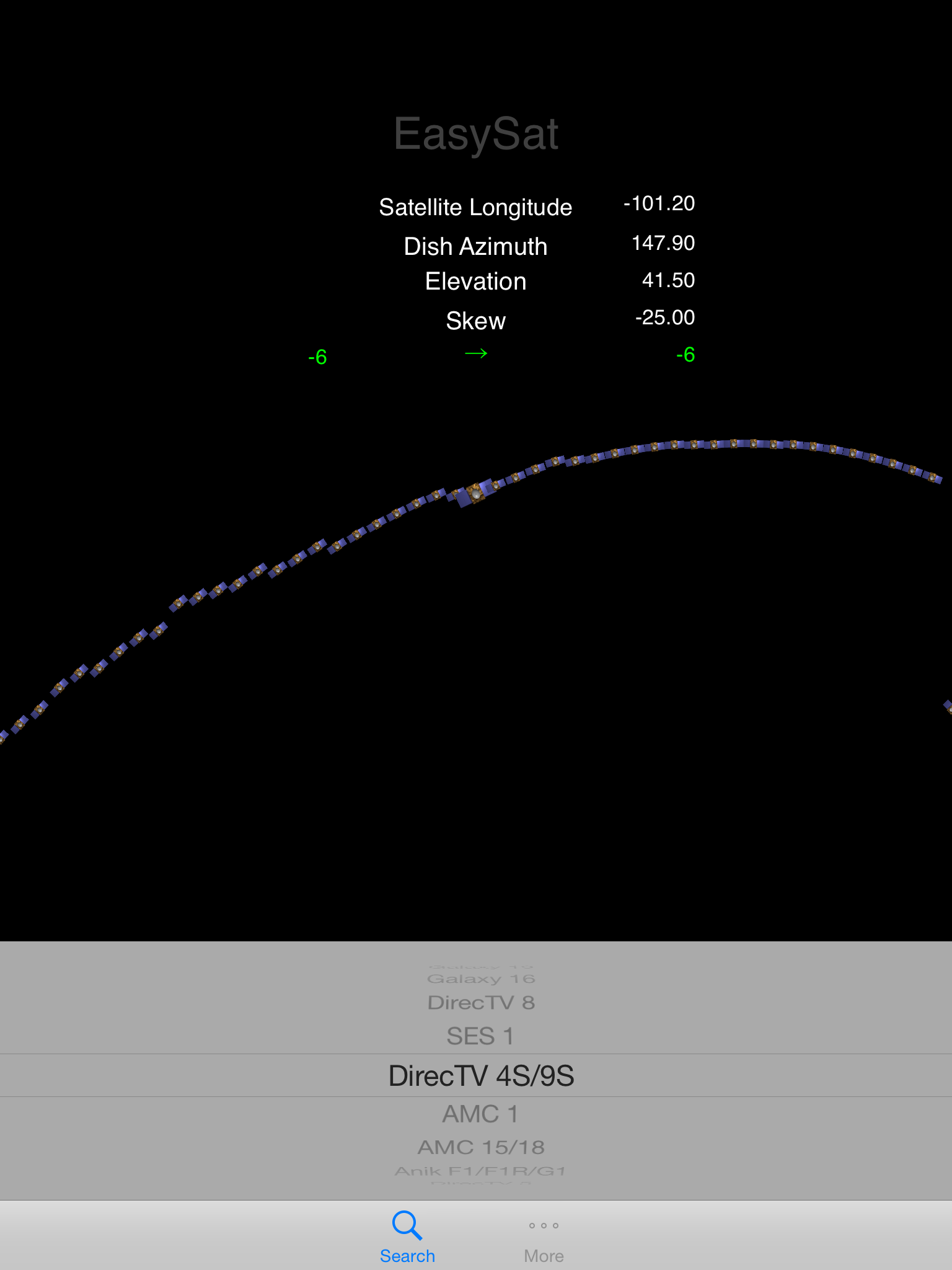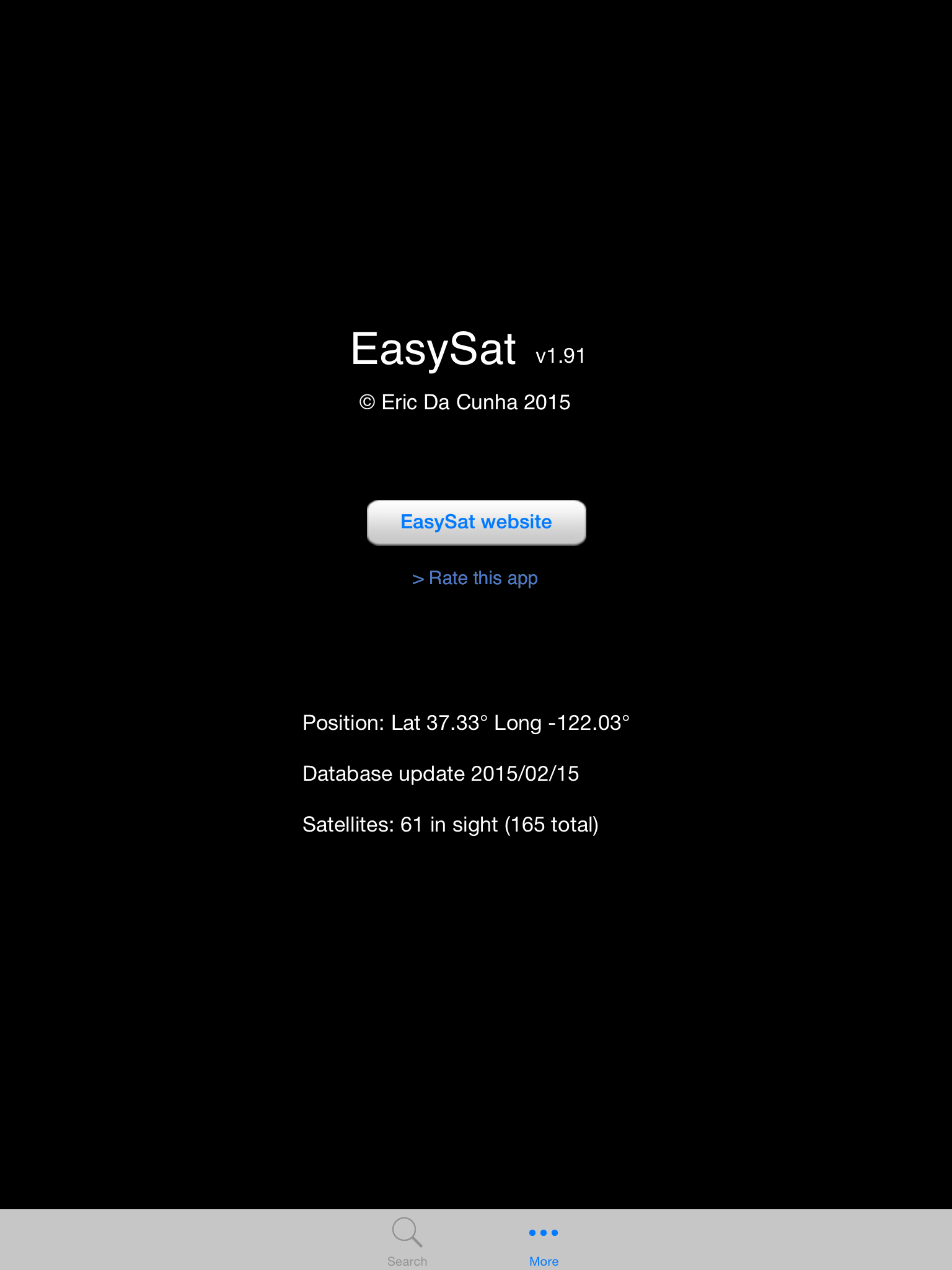 Keywords : DirecTV, Dish Network, CanalSat, satellite, geostationary orbit, Ku band, C band, dish pointer, TV

Version: 1.93

Updates :
1.93 Update with 2019/03/02 database.
For iOS9 and higher and all screen size.
1.92 Update database 2016/07/09 and icons.
Better internationalization and iTunes links.
1.91 iOS 8 bugfix.
Update with 2015/02/20 database.
1.90 Update with 2014/09/21 database.
Minimum iOS 5.1.1 (iPhone 3GS, iPod Touch 3G)
1.80 Update satellites positions 2012/10/14.
iOS6 & iPhone5 friendly.
1.72 Update satellites positions 2012/04/09.
Retina icon for iPad.
1.71 Update satellites positions 2011/11/14.
1.70 Update satellites positions 2011/07/17.
Add spanish translation.
Update web link and new link for rating the app.
1.60 Update satellites positions 2011/03/27.
Fix calculation for southern hemisphere.

1.50 Update satellites positions 2011/01.
Universal app, supports basic iPad display.
Improve Clarke's bell display.
1.21 Update satellites positions 2010/09.
1.20 Better graphics (including for iPhone 4), iOS4 support, context saving.
1.12 Update satellites positions 2010/06/07.
1.11 Update satellites positions 2010/03/07.
1.10 iPhone 3GS / 4 : can now use the app for orientation. Turn following the arrows to find the satellite.
Others iPod / iPhone : EasySat displays Magnetic Azimuth instead of Azimuth. Magnetic declination is included, you can now follow your compass reading.
1.01 Update satellites positions 2009/11/07.
1.00 First release.
Satellites for Europe, Africa & Middle East (72E - 2E)
Arabsat 2B/5A
Astra 1C/1D/1E/1G/1H/1KR/1L/1M/2A/2B/2D/3A/3B/4A
Badr 4/5/6
Bonum 1
Eurobird 1/2/3/4A/9A/16
Eutelsat W2A/W2M/W3A/W4/W5/W6/W7/Sesat1
Express AM1/AM22
Hellas Sat2
Hotbird 6/8/9
Insat 3E
Intelsat 7/10/12/17/902/904/906
NSS 12
Paksat 1
Rascom QAF 1R
Turksat 2A/3A
Yamal 202
Satellites for Atlantic Ocean (0.8W - 61W)
Amazonas 1/2
Amos 2/3
Atlantic bird 1/2/3/4A
Express AM44
Hispasat 1C/1D/1E
Intelsat 1R/9/10-02/11/14/16/707/805/901/903/905/907
Nilesat 101/102/201
NSS 5/7/10/806
Telstar 11N/12
Thor 5/6
Satellites for North & South America (61.5W - 139W)
AMC 1/2/3/5/6/7/8/9/10/11/15/16/18/21
Anik F1/F1R/F2/F3
Brasilsat B2/B3/B4
Ciel 2
DirecTV 1R/4S/5/7S/8/9S
EchoStar 4/8/9/10/11/12/14/15
Galaxy 3C/12/13/14/16/17/18/19/23/25/28
Horizons 1/2
Nimiq 1/4/5
SatMex 5/6
SES 1
Simon Bolivar
Star One C1/C2
Telstar 14
Satellites for Asia & South Pacific (177W - 74E)
ABS 1/5
Apstar 2R/6
AsiaSat 3S/4/5
BSAT 2A/3A
Chinasat 5B/6A/6B/9
Eutelsat W75
Express AM2/AM3/AM33/MD1
GE 23
Insat 2E/3A/3B/3C/4A/4B/4CR
Intelsat 5/8/15/701
JCSAT 1B/2A/3A/4A/5A
Koreasat 5/6
Measat 3/3A
N-Sat 110
NSS 6/9/11
Optus C1/D1/D2/D3
Palapa D
SES 7
ST 1
Superbird B2/C2
Telkom 1/2
Telstar 18
Thaicom 5
Vinasat 1
Yamal 201