EasySat

¿ Necesite ayuda para orientar su antena satélite ?
EasySat se basa en su posición para ayudarle en hallar satélites en torno suyo.
Escoja entre los satélites visibles con el selector abajo de la pantalla o haciendo desfilar con el dedo el cinturón de Clarke virtual ( o corro de los satélites visibles ) y dos veces tocandole.
Conseguirá la dirección ( acimut ), la elevación y la falta para la cabeza de recepción.
La localización se hace por GPS, WIFI o red celular.
No se necesita un abono data. La base de datos de las posiciones ( mas de 160 satélites ) fechada de 2016 ya esta integrada. La lista completa de los satélites es disponible abajo : Hispasat, Brasilsat, SatMex, Astra 1KR, ...
¿ le falta uno? Entre en contacto conmigo por mail o en el foro EasySat.
Poseedores de 3GS, siguen las saetas rojas o verdes para orientar su iPhone hacia el satélite elegido.
Para los otros, el Acimut Magnético integra la declinación magnética y permite una orientación con una brújula en lectura directa. Ningún calculo complicado para hacer las correcciones necesarias.
Capturas de pantalla iPhone: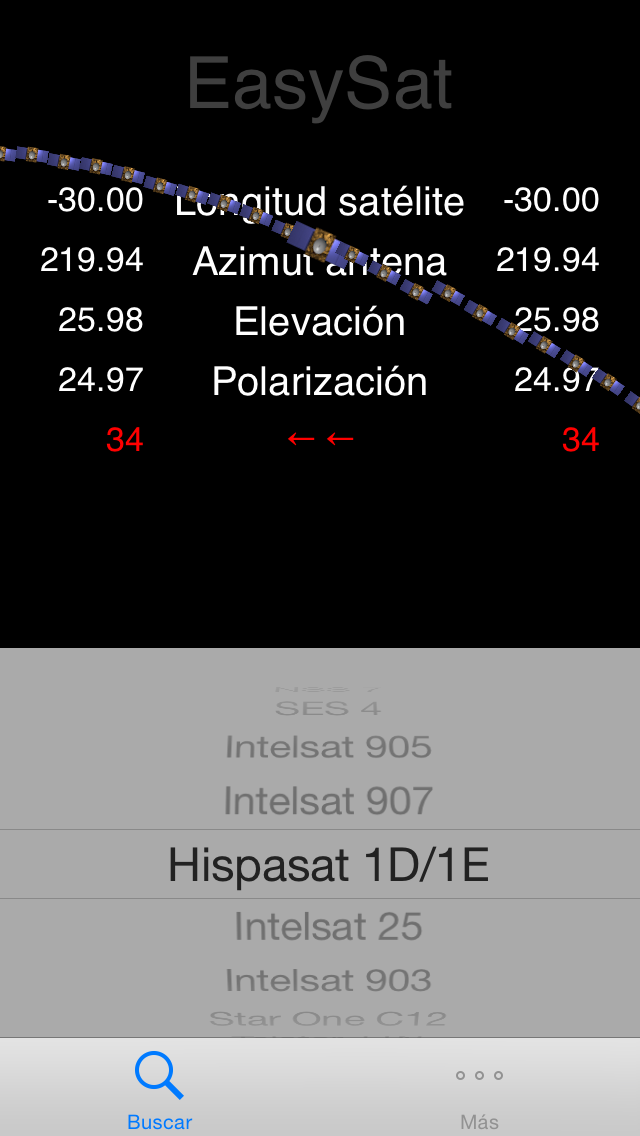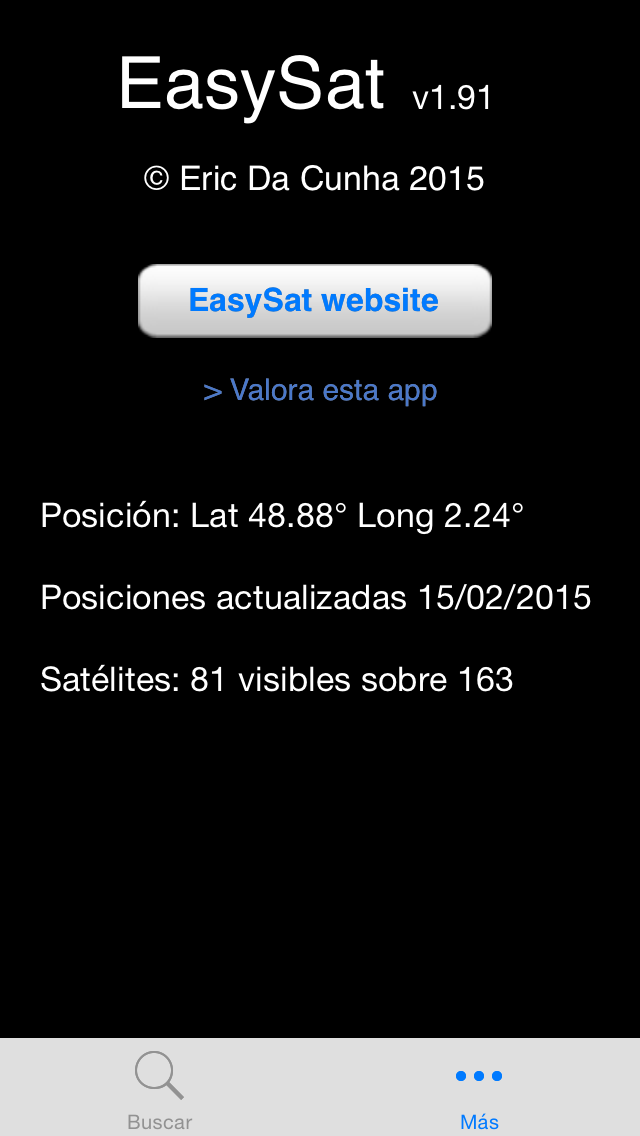 Capturas de pantalla iPad: (25% zoom, clic for full screen)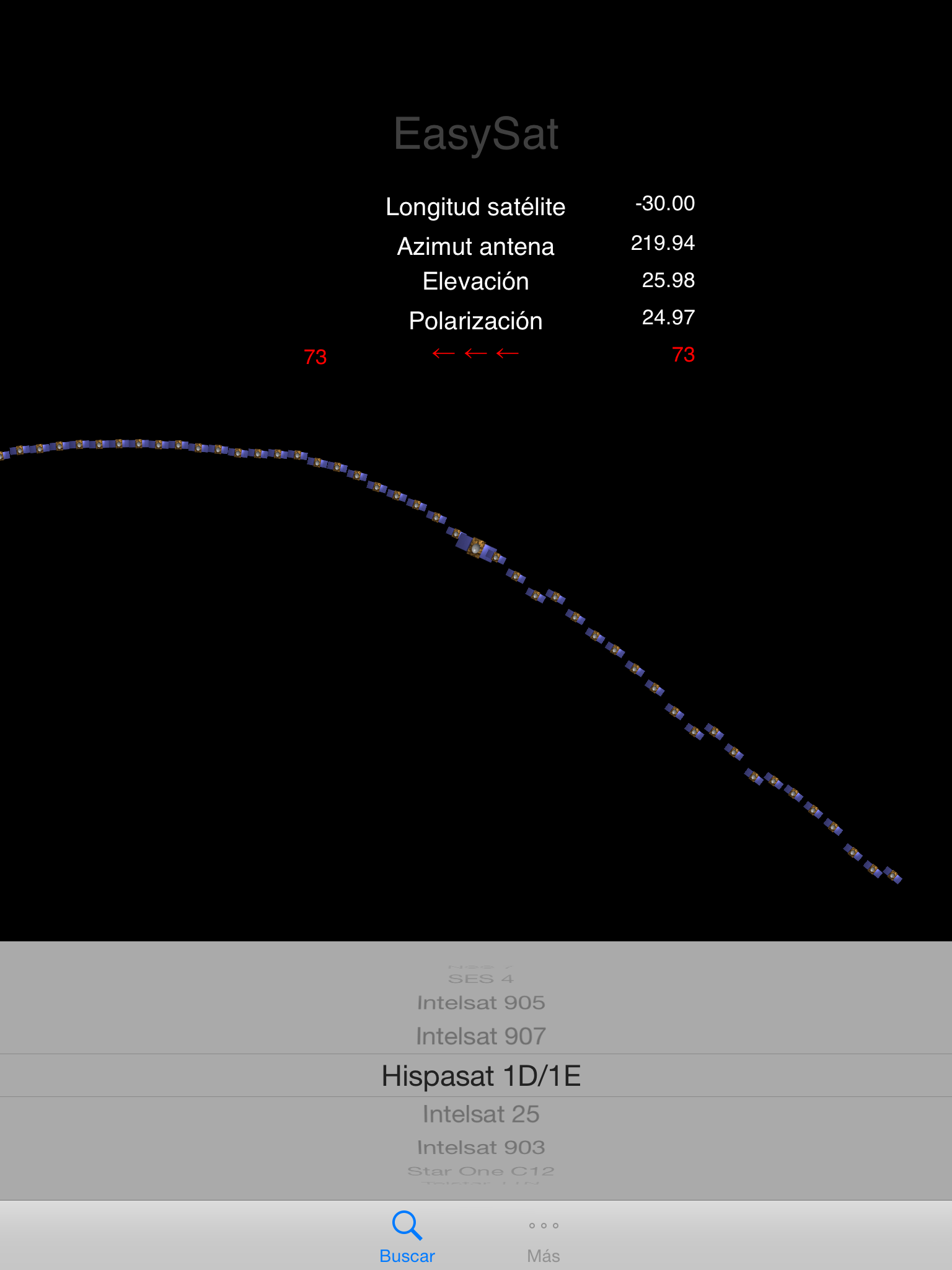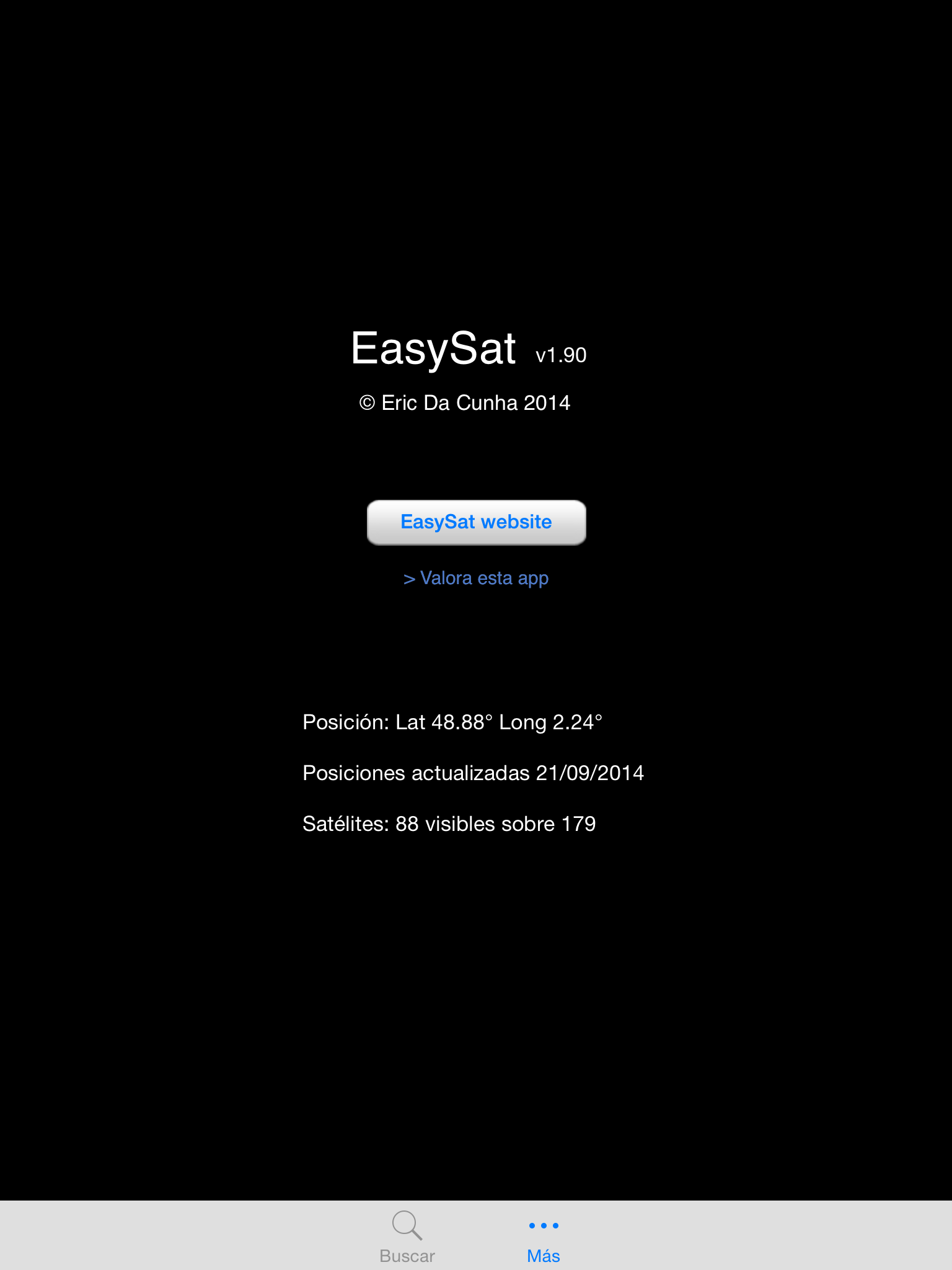 Palabras-llaves : antena parabólica, Hispasat, Brasilsat, SatMex, Astra 1KR, satélite, orbite geoestacionario, parábola, LNB, TV, Digital+.

Version: 1.92

Actualizaciones :
1.92 Actualización el 9/07/2016 de los satélites.
1.91 iOS 8 fix.
Actualización el 15/02/2015 de los satélites.
1.90 Actualización el 21/09/2014 de los satélites.
Minimum iOS 5.1.1 (iPhone 3GS, iPod Touch 3G)
1.80 Actualización el 14/10/2012 de las posiciones de los satélites.
Adaptado para iOS6 y iPhone5.
1.72 Actualización el 09/04/2012 de las posiciones de los satélites.
Icono retina para iPad.
1.71 Actualización el 14/11/2011 de les posiciones de los satélites.
1.70 Update satellites positions 2011/07/17.
Add spanish translation.
Update web link and new link for rating the app.
1.60 Update satellites positions 2011/03/27.
Fix calculation for southern hemisphere.

1.50 Update satellites positions 2011/01.
Universal app, supports basic iPad display.
Improve Clarke's bell display.
1.21 Update satellites positions 2010/09.
1.20 Better graphics (including for iPhone 4), iOS4 support, context saving.
1.12 Update satellites positions 2010/06/07.
1.11 Update satellites positions 2010/03/07.
1.10 iPhone 3GS / 4 : can now use the app for orientation. Turn following the arrows to find the satellite.
Others iPod / iPhone : EasySat displays Magnetic Azimuth instead of Azimuth. Magnetic declination is included, you can now follow your compass reading.
1.01 Update satellites positions 2009/11/07.
1.00 First release.
Satélites para Europa, África y Oriente Medio (72E - 2E)
Arabsat 2B/5A
Astra 1C/1D/1E/1G/1H/1KR/1L/1M/2A/2B/2D/3A/3B/4A
Badr 4/5/6
Bonum 1
Eurobird 1/2/3/4A/9A/16
Eutelsat W2A/W2M/W3A/W4/W5/W6/W7/Sesat1
Express AM1/AM22
Hellas Sat2
Hotbird 6/8/9
Insat 3E
Intelsat 7/10/12/17/902/904/906
NSS 12
Paksat 1
Rascom QAF 1R
Turksat 2A/3A
Yamal 202
Satélites para el Océano Atlántico (0.8O - 61O)
Amazonas 1/2
Amos 2/3
Atlantic bird 1/2/3/4A
Express AM44
Hispasat 1C/1D/1E
Intelsat 1R/9/10-02/11/14/16/707/805/901/903/905/907
Nilesat 101/102/201
NSS 5/7/10/806
Telstar 11N/12
Thor 5/6
Satélites para América del Norte y del Sur (61.5O - 139O)
AMC 1/2/3/5/6/7/8/9/10/11/15/16/18/21
Anik F1/F1R/F2/F3
Brasilsat B2/B3/B4
Ciel 2
DirecTV 1R/4S/5/7S/8/9S
EchoStar 4/8/9/10/11/12/14/15
Galaxy 3C/12/13/14/16/17/18/19/23/25/28
Horizons 1/2
Nimiq 1/4/5
SatMex 5/6
SES 1
Simon Bolivar
Star One C1/C2
Telstar 14
Satélites de Asia y el Pacífico Sur (177O - 74E)
ABS 1/5
Apstar 2R/6
AsiaSat 3S/4/5
BSAT 2A/3A
Chinasat 5B/6A/6B/9
Eutelsat W75
Express AM2/AM3/AM33/MD1
GE 23
Insat 2E/3A/3B/3C/4A/4B/4CR
Intelsat 5/8/15/701
JCSAT 1B/2A/3A/4A/5A
Koreasat 5/6
Measat 3/3A
N-Sat 110
NSS 6/9/11
Optus C1/D1/D2/D3
Palapa D
SES 7
ST 1
Superbird B2/C2
Telkom 1/2
Telstar 18
Thaicom 5
Vinasat 1
Yamal 201